Metagolf Beta 5 is here
Much effort has been invested in this new version.
Your feedback greatly help me to improve some aspects of the game: Thanks a lot !
Pack of levels
In this new Beta I introduce the idea of Level Pack.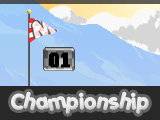 Collections of levels can now be dropped in your maps folder to extend the game. At the moment you will find 2 different level Pack in Metagolf. The first one is call Championship and is a collection of unlockable single player oriented levels. And while the second is called called Multiplayer Pack you can still play them in solo (and vice versa).
I still need to finish both packs but currently you can enjoy more than 20 levels, 7 types of Golf Ball, 3 different game modes and 22 soundtracks in the Full Registered Version.
OpenAL
OpenAL is now by default the new sound layer under Linux but also a new alternative to Windows and Mac Os users. The sound engine was completely revamp for this occasion. This should allow Metagolf to be more widely fully supported under Linux distributions. Hope Tux enjoy this one

A few words about Metagolf
It is now more than 3 years that I'm working on this project alone with my own savings. So you can rest assured that I will lead this project to fruition no matter what!
The idea behind Metagolf was to build a modern in-house game engine allowing me to produce more ambitious and great games in the future. Now that the project is getting mature, I hope you will welcome this first title and enjoy it as much as I enjoy making it after all these years.
I also would like to thanks anyone on the Internet who recently made a nice review or video preview of Metagolf
Finally the retail price of Metagolf has been lowered as well as the discount. It's probably the last time you can get Metagolf for so little guys

What is new on this Beta ?
Here's the changelog:
Added 5 New Levels.
Added 4 New Particles effects.
Added 3 New Sound effects.
Added 1 New Golfball Type, Sticky Ball.
Added Players can have a customized skin team.
Added Auto-popup parameter for dialog box.
Added Falling Platform object.
Added OpenAL as the default sound layer under Linux.
Added OpenAL as an alternative sound layer under Windows and Mac Os.
Added Level Editor documentation – follow this link.
Changed Player walk easily on slope.
Changed Clicking on dialog box and level box easier.
Changed Level box working on Joypad.
Changed Power gauge start from zero.
Changed Level Editor check grid is now on the TileMap Editor.
Changed Reduce Buoyancy forces on a few objects.
Changed Spiky Ground Medium skin is now by default.
Changed A few tiles on the main TileMap.
Changed Fullscreen mode by default under Linux.
Fixed Surface grip.
Fixed Level Settings updated after saving.
Fixed Unicode characters bug.
Fixed OpenAL silence on some events.
Fixed Zoom issue while loading level.
Fixed Many level improvements.