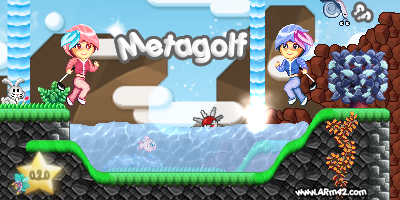 Metagolf is a mini-golf game with multiple challenges. Up to 4 players can compete on the same screen, sharing the same golf ball and the same goals. Team up with friends for loads of fun or play alone to improve the accuracy of your swing across 3 different platforms (Windows, Mac Os X and Linux).

More focused on action and real time strategies than a traditional mini-golf, discover full interactive environments from fish ponds to breakable chains and deadly traps.
Thanks to his built-in level editor, you can create, share and download new courses. Currently available in two languages, English and French, Metagolf let you reuse any provided content or make new one from various media to create your very own world. Change the realistic physical system behaviour or combine any game mode with exiting different type of golf ball. The choice of setting your own game play preferences is entirely yours !

My name is Michaël Lievens
Year 2012 in Belgium,
Metagolf
is my first homebrew game
An amazing penniless experiment that I conducted alone
One wish :
Reiterate
www.arm42.com