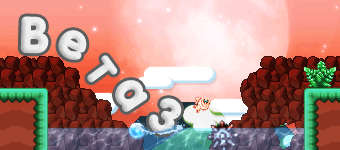 Happy New Year everyone !
Metagolf Beta 0.3 is nearly fully featured.
Most of the development task is now is reduced to adding graphics, sounds, new levels and tweaking every game objects to reach optimal gameplay results.
A new video is available in the Media Page.
Here's the news for this beta:
Xbox 360 Controller support, greatly recommended.
Each player can move his own camera.
More trigger possibilities for puzzles.
Rebalanced golf ball movement.
Tiles can be rotated and mirrored.
Smooth Zooming system.
One way platform.
Pattern to easily create your own level.
6 new sound effects.
3 new levels.
3 new soundtracks.
3 new backgrounds and atmospheres.
A few bugs fix.
But where is the Demo version ?
Many of you asking me via Email where to download the Demo version of Metagolf to give it a try.
First of, thanks a lot for your interest in Metagolf, your feedback is always greatly appreciated !
Since I'm working alone on this spare-time project with no real budget, each times I read comments on Metagolf make my day

.
Metagolf is a work in progress.
The gameplay, graphics and sounds ressources are subjects to change while approaching a final release (and beyond).
Because of that, demo and preview versions are only available in private for beta-testing purposes.
I hope to release a public demo before the end of the first quarter of 2012.
Stay tuned